Starting this month, I'll be hosting two author interviews each month. The first will continue to be an interview of a fantasy writer. The second will be an interview of a YA/NA author!
Here to kick off the year for the YA side is Fanni Sütő!
Kristen: What can you tell us about your imaginary reader as you write? Do you write with a specific reader in mind?
Fanni: It might sound a bit selfish, but I write stories I know I would like. I am my imaginary reader. I like stories which suck you in and make you forget about your life for a while. I used to work in jobs I hated and I was immensely grateful for books that could transport me elsewhere. I'm a strange creature, I like deep and thought provoking things alongside something easy going and very silly. Hm, basically I think I write for intelligent but a bit crazy people. I mostly write with a female reader in mind but I make conscious efforts to try to keep it interesting and enjoyable for the male reader as well.
Kristen: Not selfish at all! I'm sure a lot of writers do that. We write what we'd love to read because that's when we write the best. It shows the most heart, I think.
To what extent do you try to broaden your audience? (What role does diversity play in your writing process?)
Fanni: I know that I mostly write with a young, female readership in mind but I try to do it in a way that it's enjoyable for a wider audience. I try to write diverse characters, although they're mostly from Middle-Europe or East Asia because these are the cultures I know better and feel comfortable writing about, without being afraid of making a mistake or offending someone. However, I like to learn new things about the world so probably my palette will be more colourful as years go by.
Kristen: I also find that my work targets largely a female audience. Though I'd love to have more people enjoy it, I do understand a book that focuses on what mine do appeal more to women.
Have you ever intentionally tried to make your readers cry?
Fanni: No, I don't think so. It's a thing I actually try to avoid. Don't misunderstand me, I love when my readers get emotional but, for example, I got really upset with John Green when I was reading Fault in Our Stars. I could smell the effort he put in there to make me cry and I didn't like that. I cried alright but I didn't read another one of his books because I don't like to be manipulated. That is to say, I don't mind being emotionally manipulated by the author as long as I don't find him/her out. Once I find that they are in my mind, trying to pull at strings, they lose my interest.
Kristen: I think I see where you're getting. I've never intentionally tried either. I know when I'm reading that sometimes I have what I call "good" cries. They might sting a bit, but I don't hate the whole experience. I can also appreciate that whatever made me cry is fitting for the story. On rare occasions I'll cry over a book and hate it because whatever caused me to cry is so upsetting that I wish it hadn't happened. That can seriously drop my love of a story.
Are there actions you hope your readers will take?
Fanni: I hope they will write to me and tell me what they liked, what made them happy, what made them cry. I dream about inspiring them, maybe to fan fiction, maybe to fan art and one day it would be nice to hear a young writer to say they were inspired by me. I also hope my readers will stop for a moment and reflect on what they read and maybe just maybe they will take something from it. I hope to spread a culture of kindness and open mindedness.
Kristen: One of the most amazing things I've learned in the past year(since I started contacting authors) is how much of an impact I can have just by saying that I enjoyed their story. I wish I'd known years and years ago that it meant so much to authors. I'd have done it sooner!
What advice would you give young readers who want to become authors?
Fanni: Read a lot, travel a lot, live a lot.

Kristen: Thank you so much for stopping by! Best of luck with all of your writing endeavors.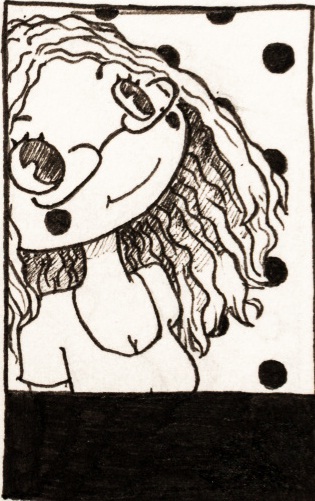 Fanni Sütő is a writer, poet, dreamer who believes in fairy tales even if they are dark, disenchanted and deconstructed. She writes about everything which comes in her way or goes bump in the night. She has been published in Hungary, the US, the UK and Australia. She is very happy to do collaborations, art exchanges, cross-art projects, so if you're interested in such things, please get in touch.