This week I resume my list of suggested retellings! If you missed it, the first half of retellings is here. Without further ado, we'll kick off with . . .
Sleeping Beauty
The Sleeping Beauty
by Mercedes Lackey
Heavy is the head--and the eyelids--of the princess who wears the crown...In Rosamund's realm, happiness hinges on a few simple beliefs:

For every princess there's a prince.

The king has ultimate power.

Stepmothers should never be trusted.

And bad things come to those who break with Tradition....

The moral of the story? Sometimes a princess has to create her own happy endings....
The Five Hundred Kingdom series consists of six adult retellings. As a whole, the series is hit or miss, but I love the premise. What if fairy tales happen a certain way because some mythological force called Tradition dictates that certain things have to be that way. The seventh son has to be foolish, lucky, and the least favored child. The girl with a step-family has to marry the prince, etc.
Those who are aware of the Tradition can try to manipulate it, but those who aren't can get caught up in a disastrous tale.
The Fairy Godmother
starts off the series, and I'd recommend that because it sets up how the Tradition works, even though it's not my favorite book. All-in-all each book can be read as a stand-alone.
This story is what happens when a little kingdom finds itself so full of fairy tale aspects that it requires a fairy godmother all to itself. Both the fairy godmother and Rosamund shine out as strong female characters who are determined to make their own fate and use the Tradition for them, not be used by it. The two male main characters provide humor and the final elements for an amazing story.
Book Links:
Amazon
and
Goodreads
The Snow Queen
The Snow Queen
by Mercedes Lackey
Aleksia, Queen of the Northern Lights, is mysterious, beautiful and widely known to have a heart of ice. No one would seek her wisdom except as a last resort. But when she's falsely accused of unleashing evil on nearby villages, she realizes there's an impostor out there far more heartless than she could ever be.

And when a young warrior following the Tradition disappears, leaving his sweetheart and mother to fear the worst, Aleksia's powers are needed as never before.

Now, on a journey through a realm of perpetual winter, it will take all her skills, a mother's faith and a little magic to face down an enemy more formidable than any she has ever known.
Another one from the Five Hundred Kingdoms series. This one is my favorite of the series and also my favorite retelling of the Snow Queen. (Creating unique titles clearly isn't Lackey's strength)
The Snow Queen
starts off near the end of the traditional tale and it's told from the Snow Queen's point of view. This story twists the roles of the characters and gives the Snow Queen a new motivation for her actions. Her personality and how well she plays her role made me instantly love her. The rest of the story is brand new.
Book Links:
Amazon
and
Goodreads
The Goose Girl
The Goose Girl
by Shannon Hale
Anidori-Kiladra Talianna Isilee, Crown Princess of Kildenree, spends the first years of her life under her aunt's guidance learning to communicate with animals. As she grows up Ani develops the skills of animal speech, but is never comfortable speaking with people, so when her silver-tongued lady-in-waiting leads a mutiny during Ani's journey to be married in a foreign land, Ani is helpless and cannot persuade anyone to assist her.

Becoming a goose girl for the king, Ani eventually uses her own special, nearly magical powers to find her way to her true destiny. Shannon Hale has woven an incredible, original and magical tale of a girl who must find her own unusual talents before she can become queen of the people she has made her own.
This is another book that's made its way into my library and I've read it at least twice. There's two stand out things for me in this tale. The first is the addition of Ani having magic. There are different forms of "speaking" in Ani's world and she has one of those forms. The second is that this book feels very much like the original tale only fleshed out.
The talking blood and horse head are absent(unless I'm forgetting), but otherwise this feels like Hale took the original story and expanded it and filled in all the blanks. Most retelling are tweaking the plot in some way, but this stands out as unique because so much was the same.
I the rest of the series(which are not retellings, but stories from other characters in the world) was okay, but they failed in my mind to measure up to this one and I didn't even add the last two books to my collection. This can be read as a standalone and though I have a friend who'll shoot me for saying so, I'd have been happy stopping with this one.
Book Links:
Amazon
and
Goodreads
The Princess and the Pea
Violet Eyes
by Debbie Viguié
When a storm brings the dashing Prince Richard to her family's farm, Violet falls in love at first sight. Richard also gives Violet his heart, but he knows his marriage is destined to be an affair of state, not of passion. For the king and queen have devised a contest to determine who will win their son's hand in marriage.

To be reunited with her prince, Violet must compete against princesses from across the land. It will take all of her wits - and a little help from an unexpected source - if Violet is to demonstrate the depth of her character and become Richard's bride.
The Princess and the Pea is not a popular tale to be retold, but even if adaptions abounded, I think this one would still snag the number one spot. There's never any doubt as to who the main couple are, but the path to try and be together is still an interesting one.
There are two especially interesting qualities about this story. I don't want to give out any spoilers, so excuse me for being a little vague. The first awesome thing about this book is that there's a whole host of princesses trying to win the prince. The author takes the time to develop quite a few of these other princesses and gives them such unique personalities, that it's hard to imagine they weren't always part of this fairy tale.
The second thing is the tests. I can't say more, but I absolutely LOVED the tests.
Book Links:
Amazon
and
Goodreads
Blended retellings
These two books are both combined retellings. They're both middle grade, but I enjoyed them as an adult.
A True Princess
(Snow Queen/Princess and the Pea) by Diane Zahler
\
Twelve-year-old Lilia is not a very good servant. In fact, she's terrible! She daydreams, she breaks dishes, and her cooking is awful. Still, she hardly deserves to be sold off to the mean-spirited miller and his family. Refusing to accept that dreadful fate, she decides to flee. With her best friend, Kai, and his sister, Karina, beside her, Lilia heads north to find the family she's never known. But danger awaits. . . .

As their quest leads the threesome through the mysterious and sinister Bitra Forest, they suddenly realize they are lost in the elves' domain. To Lilia's horror, Kai falls under an enchantment cast by the Elf King's beautiful daughter. The only way for Lilia to break the spell and save Kai is to find a jewel of ancient power that lies somewhere in the North Kingdoms. Yet the jewel will not be easy to find. The castle where it is hidden has been overrun with princess hopefuls trying to pass a magical test that will determine the prince's new bride. Lilia has only a few days to search every inch of the castle and find the jewel—or Kai will be lost to her forever.
Book Links:
Amazon
and
Goodreads
Th
e Princess Curse
(12 Dancing Princesses/Beauty and the Beast) by Merrie Haskell
Twelve princesses suffer from a puzzling (if silly) curse, and anyone who ends it will win a reward. Reveka, a sharp-witted and irreverent apprentice herbalist, wants that reward. But her investigations lead to deeper mysteries and a daunting choice—will she break the curse at the peril of her own soul?
I've never once contacted an author to ask if they'd write a sequel for something. Until this book. Yes, I'm way above the target age range. This was simply a brilliant book that combined two awesome stories to create a deep tale with fascinating characters. I dearly hope there'll be a sequel, and I'd love for it to be YA targetted.
Book Links:
Amazon
and
Goodreads
There are a few more recommendations I'd like to put out there and didn't really have a category to put them in. The first is a fairy tale anthology that has various retellings of different stories
From the Stories of Old
A JL Anthology
In this international collection, new life is given to fairy tales, both classic and obscure.

Mythical creatures put the fairy in Fairy Tale. Mermaids, selkies, and ocean guardians experience the best and worst of humanity; sisters encounter an unusually friendly bear; a brave bride meets a silly goose; and a spinner of gold sets the record straight.

Urban fantasies modernize classics: a Frenchman learns the truth about magic, his past, and his girlfriend; a girl sets out to find love but receives a curse; and today's naughty list makes Old Saint Nick not-so-jolly.

New worlds bring a fresh sense of wonder! In the future, a young woman fights for her people and herself; a bastard son finds acceptance in a world ruled by women; and a farmer's wits win the heart of a frosty king.

Discover unexpected twists on old favorites, and fall in love with new tales and worlds to explore!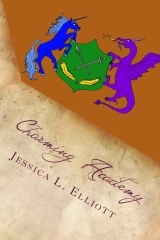 The second is a series where the first book is about the characters attending fantasy schools for princes and princesses. The sequential books are all retellings using those characters.
Growing up is hard enough for anyone, but for a boy destined to be the Prince Charming of a fairy tale it's an absolute nightmare. Attending Charming Academy you not only deal with the normal aspects of youth, but there are sarcastic dragons, vindictive witches and your princess hates you. Will Lucian survive school and become the prince his parents believe him to be? Join him and his friends as they learn the art of being a Prince Charming.
The following books in the series are the tales of The Princess and the Frog, Cinderella, Beauty and the Beast, and two more that I've yet to get to. (I'm in the middle of the 4th book)
Book Links:
Amazon
and
Goodreads
Last up is a series where I've read all the books, but it's been so long and stories tend to blend in my head that I couldn't accurately pick out which ones I enjoyed enough to recommend.
Violet Eyes
is one of the books in this series. The rest are all pictured below and as they're by different authors, the best route to finding all the links is to pull up one on Amazon or Goodreads and find the linked list or also bought. (Yes, I'm too lazy to pull up that many myself)
And that is all for retellings! I read a lot of retellings and have a lot that I still want to read. So hopefully I've been able to pass along some interesting titles you haven't added to your list yet.
What are your favorite retellings? What do you look for in a retelling?